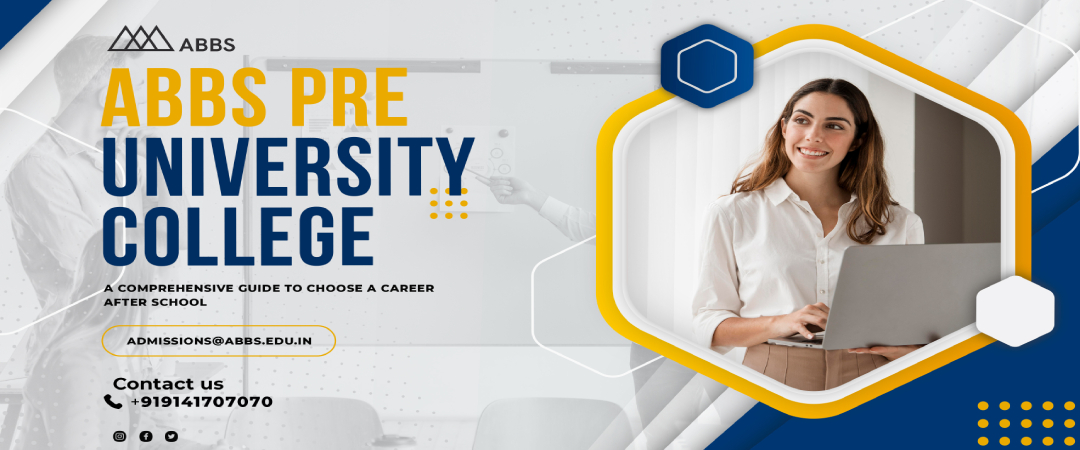 "Life goes smoothly until school ends and you realize that you have to make your own identity!"
Completely perplexed what to do after passing 12th? Determine your career path as guided below!
Throughout the journey of studying at top PU college in Bangalore for PCMB, PCMC and CEBA, we all make so many plans for the future but when the time comes to be certain about the career to pursue we all are at our wit's end. After completion of studies in PU colleges in Bangalore, you get plenty of career options available related to your domain, but it is very strenuous to choose one in which you can prosper.
At the best PU college in Bangalore, ABBS PU college, we allow each and every student to analyze the different career options after 12th and then choose the most appropriate career for themselves. According to the Top PU colleges in Bangalore, it is very important for each student to comprehend the pros and cons of the career path after 12th they are choosing so that later on they don't end up switching different fields which may lead to a waste of time & money and adversely affects the enthusiasm of a person.
It is very aptly said and evident that one can excel in a field for which he/she is impassioned and are always keen to learn more, so during the course of studying at best PU college in Bangalore, you must get aware about the subject or topic that keeps you intrigued and after profound research and thinking you should pick the related career option.
You have to be certain about what field/stream draws your attention most and analyze if the career growth is approachable or not. Picking the stream that you have an interest, might be hard or different from what others do but it gives you lifelong satisfaction and you are always capable of earning better.
Even if you have done your studies at the best PU college in Bangalore, one must keep in mind that whatever career option you choose after 12th it needs lots of hard work and dedication, and be mentally prepared to remove all the obstacles coming in your way smartly and confidently. Due to the typical job and career development system in India candidates are finding it very hard to get a job that is satisfactory and relevant, but the one with promising commitment and hard work accomplishes all the nerve-cracking tasks.
Yet, it is crucial to do comprehensive research on career options after 12th available in respective domains which align with one's interest too.
Let's put some light on to list of all courses after 12th and the career opportunities the one may choose after studying at Best Pu colleges in Bangalore
Career option for PCB students
The students with the PCB stream have immense options available to select after the 12th.
MBBS: Immediately after passing 12th from any PU college in Bangalore, you can do Bachelor of Medicine and Bachelor of Surgery, a five-and-a-half-year medical program that equips learners for a medical surgeon's meticulous requirements.
BDS: Helps students to pursue a career as a dentist, it is a complete five-year Bachelor of Dental Surgery program. These days it is becoming the preference of many students because this allows a person to fulfill their dream of becoming a doctor that excludes the burden of rigorous learning and studying like MBBS.
Career options for PCMC students
This option is most appropriate for those who are very ambitious about technology and science.
B.Tech: Doing Bachelor of Technology after schooling from the Best Pu colleges in Bangalore for science, opens a plethora of career opportunities for students. Here you can opt to go with computer software engineering, electronics and communication, automotive engineering, aerospace engineering, mechanical engineering, civil engineering, and many more.
BCA: A four-year program, Bachelor of Computer Application is for someone zealous about computer science. Once schooling ends from Top Pu colleges in Bangalore for science, the student can now learn and explore the digital and data world and bring it into practice.
Career Options for Commerce Students
Once your study from the PU colleges in Bangalore ends you can pursue your career in the commerce field more specifically as explained below:
B.Com: Bachelors in Commerce, 3 years graduation program for students interested in Financial Accountancy, Finance, Business Organization, Business Statistics, and others.
BBA: Bachelor of Business Administration may be selected by candidates who are more interested in management.
CA: The course that helps students to choose a very respective and promising career opportunity. It is suitable for those who are willing to work hard to become certified Chartered Accountants.
BBA: Company Secretary program is for those who want to pursue a career in the financial and investment field and are interested in exploring taxation.